5 takeaways from Atlanta's life-saving return to Miami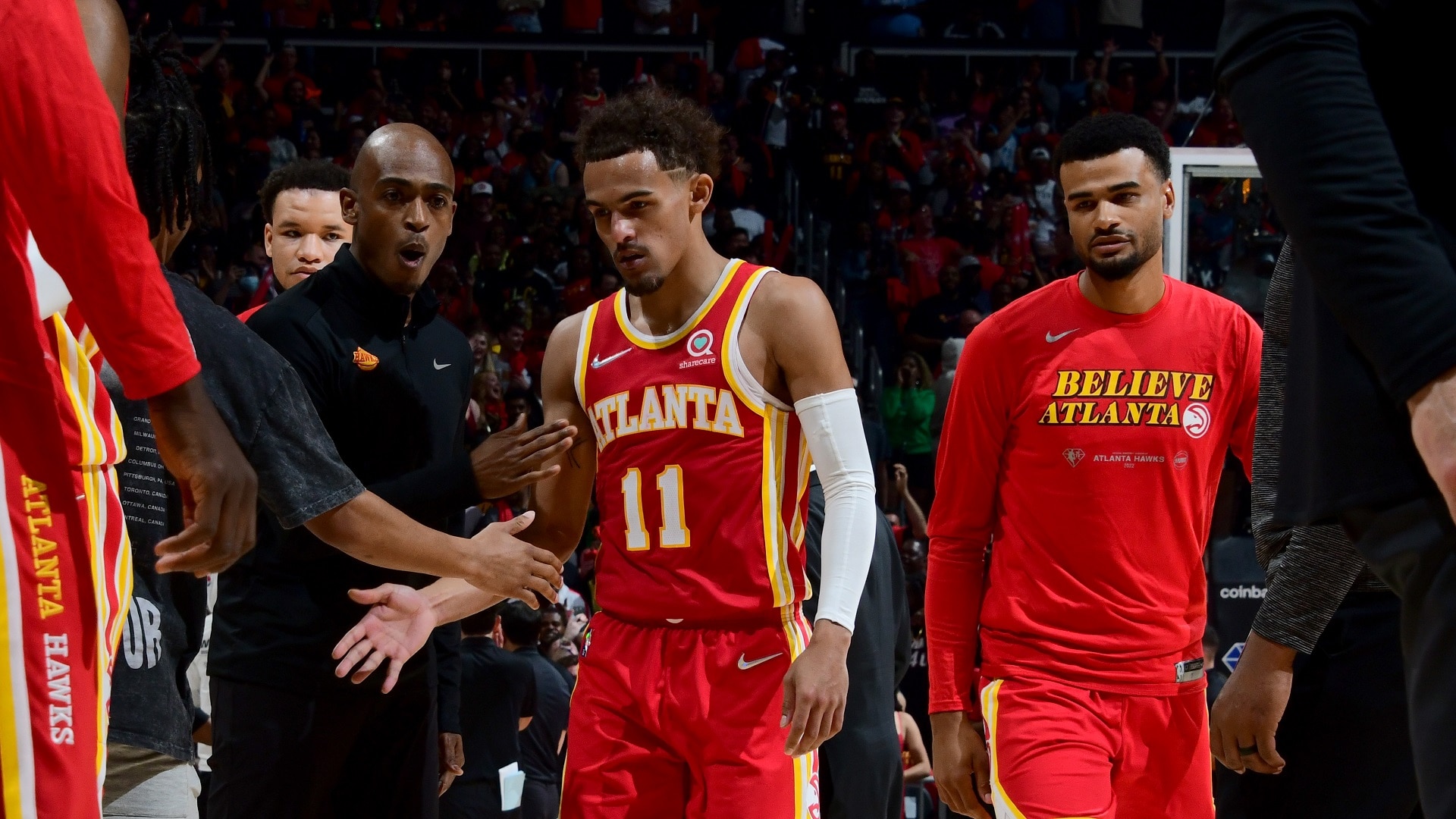 Five takeaways from the choppy, seasick, back-and-forth Game 3 between the Hawks and Heat that gave us a thriller and now…a series:
---
1. "Ice" is finally warming up
For the first 11.5 quarters of this first-round streak, Hawks star Trae Young was all about defrosting. He shot less than 30% overall, head scratched 10% from deep, missed a signature moment, talked about the task of trying to outplay Heat coach Erik Spoelstra – then hit Miami with a punch that no one saw coming.
In the final three minutes on Friday, he outscored the Heat 10-8, including the eventual winner on a 10-foot floater with 4.4 seconds left. Better late than never for Young, who by comparison was a totally different player in the playoffs. If you recall, he became a villain in New York, then caused the bitter rift between Ben Simmons and the Sixers, then outplayed two-time MVP Giannis Antetekounmpo in Game 1 of the Eastern Finals when he lost 48 points before being brought down by a bizarre ankle injury. Young was one of the faces of the league playoff billboard.
Well: What happened between then and now?
When this streak started, Spoelstra seemed determined to constantly trap him and force the ball out of Young's hands and put other Hawks on the spot, and it worked when Miami took a 2-0 lead and then used a searing third quarter to go up 11. points in Game 3. Young was baffled then, but as great scorers often do, he found a way, especially when it counts. He only made six baskets the entire game, but four in the fourth.
In the process, he gave the Hawks hope – and the Heat something more to think about as they re-evaluated their plans for him for Game 4. How can they steal the confidence of a player who refuses to lose?
"I had no doubt that if I shot it, I wasn't going to (miss it)," Young said.
---
2. Jimmy Wasn't Herro
On Miami's last two possessions, the ball went to Jimmy Butler, and on the face of it, that seems fine and understandable. Butler, after all, was coming off a 45-point Game 2 and has a pretty thick resume to be good in those times.
But he missed both times, on tough jumps that weren't even close. In this sense, he could not match or surpass Young.
And in this game, in this situation, maybe the best option was Tyler Herro? The Hawks had nothing for Herro the entire game; he tore through their defense, scored 24 points on iso plays and was open on those last two trips to the field. But he never looked.
Given that he was the most reliable player on the roster this season and certified his status as a favorite for the Sixth Man of the Year award, Herro earned the right to have a play prepared. for him in tense situations. Plus, the Hawks have put their best defenseman, De'Andre Hunter, on Butler for those last two trips — making it more confusing why Herro was passed over.
Overall, the Heat need to address their late game execution. In the final 10 seconds of games in which they were tied or trailing by a few three points this season, they are now shooting 1 for 13.
---
3. Kyle Lowry limps home
Miami played the fourth quarter without Kyle Lowry and you wonder if the Heat's leadership and direction on the stretch was damaged as a result. Lowry suffered a hamstring injury and while he wouldn't rule out playing on Sunday, those injuries are tricky.
Since the injuries of key players suddenly erupt during the playoffs – Khris Middleton, Joel Embiid, Devin Booker, etc. – nothing can be taken for granted. Especially with a 36-year-old playmaker who relies on sneaky speed.
In his place, Herro gets the bulk of the run on point, but Miami really lacks a pure replacement; Gabe Vincent had three turnovers and five missed shots in six attempts during his stint on Friday. With Lowry in the treatment room, Miami lacked a reliable ball handler and decision maker when it came to responding to Young's heroics in the final minutes.
And so: It all depends on Lowry's healing powers over the next 48 hours. If it was mid-January, he probably wouldn't be playing Sunday anyway. And the Heat could err on the side of caution and take a chance anyway, as they still have a 2-1 lead and any worsening of a hamstring injury could linger.
---
4. Nah Capella
The Hawks aren't quite clear yet; they still have to deal with the uncertain status of their starting center, Clint Capela, who suffers from a hyperextended knee.
His knee was scheduled to be re-evaluated before Game 4 on Sunday, so the Hawks are awaiting word from doctors on that. In the meantime, they bought themselves time by winning Game 3, when the Heat and especially Bam Adebayo missed a golden opportunity to take advantage of his absence.
Here's the weird thing: without having to deal with Capela's defence, Adebayo's impact was rather muted on Friday; he never caused the Hawks great concern or destruction. Miami didn't force the ball to him (he only took nine shots) and he only made one field goal in a tight fourth quarter.
Even weirder: Hawks backup center Onyeka Okongwu had a bigger impact in the streak with seven points in the fourth without missing a shot. And remember, it was against a player, Adebayo, who was (rightly) upset that he wasn't a finalist for Kia Defensive Player of the Year.
If Capela returns to the lineup and hurts Miami pick and roll with Young, the Heat might regret missing the chance they had without him.
---
5. Max Player
Duncan Robinson opened the series in ballistic fashion by making eight of nine from deep and scoring 27 points in 23 minutes. In the two games since, he has totaled six points.
This corresponds to his quirky and confusing career path. Robinson came out of nowhere to carve out a crucial role in Miami's rotation by sinking 3-pointers and spacing the ground. After back-to-back seasons shooting over 40% at that distance, he was awarded a five-year, $90 million extension last summer — the largest ever given to an undrafted player.
And then he fell to earth, struggling with his shot and losing his place in the starting lineup this season to Max Strus who, much like Robinson, came out of nowhere to win his place. Strus gave Atlanta problems Friday by dropping 20 points and was a key figure in the third quarter (10 points) when Miami raced to take the lead.
So where is it going? Well, actually, Miami is in a good place. Even if Robinson struggles — and he's virtually unplayable if he can't hit 3-pointers — there's someone who is willing and able to play that long-range role. There's basically an extra layer of insurance in case one of them gets chilly.
* * *
Shaun Powell covered the NBA for over 25 years. You can email him here, find his archives here and follow him on Twitter.
The views on this page do not necessarily reflect the views of the NBA, its clubs, or Turner Broadcasting.